Are you ready to meet the women of September? I know I am. The poll is late this week, but sometimes life gets in the way. We'll do our best to keep it updated in the future. Now on to the list…
1. (1) Kristen Bell –
Another month for Veronica Mars in the number one spot. She's starting to lose steam in the votes, but with
Heroes
coming back (is she even still on that show) it could help her maintain position. Is
Fanboys
ever going to be released? Why do they insist on keeping Kristen Bell in Leia's Metal Bikini away from us?
2. (4) Jennifer Love Hewitt –
It was an extremely busy August for Miss Jennifer Love. First of all, she is smoking (hot not cigarettes). She lost a few pounds that the press hounded her about earlier in the year. Let's be honest nobody at The WO was going to kick her out of bed, but words can't even express how smoking (again… hot not the cigarettes) she is right now. In other Amanda Beckett news, JLH announced to the world that
she wished she "had been nude from the time I was 12 until I was 28."
(LINK HERE)
Well if you want to change that to 18-28 (keeping it legal -ed.), I'm sure there is not a straight man alive who doesn't wish the same thing. Could the muse behind the list find her way back to the top? We'll see.
3. (2) Elisha Cuthbert –
Taking a hit from J-Love's reemergence Ms. Cuthbert drops a spot. Had she announced that she wanted to stay nude as well (hint hint –ed.), I'm sure it would have titillated us enough to keep her in second place. Let's not kid ourselves. She's still beautiful, and just being nominated for the WO List puts you in a high position in the world of hotness. Elisha is also returning to
24
. Our TV lineup is filling up quickly.
4. (3) Mila Kunis –
Mila drops a spot as well this month, thanks to Jennifer Love Hewitt. Why do we love Mila so much? The first reason is she just seems like a cool chick. The second? She gets us crazy amounts of hits. I assume the second reason is directly related to the first, and all of us, readers and fans alike, can agree that she is a sexy woman. Cast as Mona Sax in the upcoming
Max Payne
film, I can assure you she'll get continued exposure and keep the fanboys drooling.
5. (5) Mandy Moore –
Staying strong in the five spot, without much going on, we have Mandy Moore. She showed up on TV's
Stand Up To Cancer
, but we are truly hoping for more exposure. The WO hates cancer, but loves Mandy Moore. We'd love to see her in a lighter mood. Pssst… Mandy. We like mixed martial arts as well, if you want to send us an invite... just saying.
6. (9) Keira Knightley –
From nine to six in one month. She was the biggest mover besides those who dropped off the list completely, and the women returning or new this month. Why? I'd love to write something here, but I honestly have no clue. I don't remember seeing her lately. Better to not over explain. She's still smoking, and forces us to watch period pieces. How could you not like that in a woman?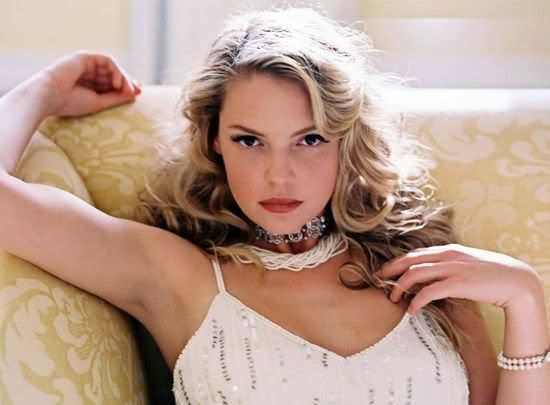 7. (7) Katherine Heigl –
Staying strong at number seven is Ms. Heigl. Still hot, but doesn't have much going on besides
The Ugly Truth
in post-production. We could see her start to slip.
8. (NR) Nastia Liukin –
Bypassing the bubble and making her first appearance on the list…. At 5'3''… 100lbs… bringing the gold back to the United States… Nastia Liukin! (pause for applause) It's no easy feat to win gold, and it's not easy to make the WO list either. This woman has it all, and she's not going away. The girl has Cover Girl ads lined up, Vanilla Star Jeans is releasing signature model Nastia Liukin Gold Jeans, two publishers are scrapping it out with each other to sign her to a two book deal, she makes the cover of the Wheaties box and she's seen hanging out all over NYC during Fashion Week. She may not stay on the list forever, but welcome to glory Nastia. Congrats on the medals as well.
9. (8) Eliza Dushku –
Ms. Dushku drops a spot because she hasn't won a gold medal… yet. Does anyone know what the word is on
Dollhouse
? I'm lazy, and haven't checked in awhile. She's still hot. She stays on the list another month. We can let that speak for her.
10. (NR) Blake Lively –
That's right folks. She's back from the bubble, and
Gossip Girl
has a new season. I wonder how
The Sisterhood of the Traveling Pants 2
went… I should ask Buford later. Beautiful as ever, we end the list this month with Blake. That's not bad… not bad at all.
The Bubble:
Crashing out of the top ten this month are
Olivia Munn
(
Aug #6
) and
Gracyanne Barbosa
(
Aug #10
). Other women in the bubble this month include
Reby Sky
,
Anne Hathaway
and
Hayden Panettiere
(
Heroes
is coming back).
Jessica Alba
makes an appearance, and word on the street is that the baby is out and she's looking sexy. Could she find herself back on the list soon? I assume so.
Jess Weixler
makes an appearance on the bubble, but without any real fame can it last? Still, we love her this month. Rounding out the bubble for September is
Sarah Palin
. With a slight resemblance to
Tina Fey
, she's just MILF-tastic. Vice President worthy? Who knows? But we'd shoot off some rounds with her any day.
That's all for this month. Questions? Comments? You know where to reach us.

-Barry